WELCOME TO GREEN BAY TICKET SERVICE
If you need Green Bay Packers tickets, you've come to the right place. At Green Bay Ticket Service, our ONLY business is selling Packers tickets. To complement your Packers game experience, we also sell hotel rooms within walking distance of Lambeau Field, a Wisconsin-style tailgate party and parking passes.
We offer everything you need to attend a Packers game at historic Lambeau Field. The BEST part for our customers is that unlike our major competitors we charge NO service fees. That means you save BIG money by paying competitive prices on tickets and reducing service fees by up to 20%.
Our office is located one mile from Lambeau Field. Because we're local we know the stadium and what the view is like from each seat. If you need something special let us know and we'll do our best to accommodate your needs. We also offer much larger group blocks of tickets than most other ticket brokers.
You can buy your tickets online or by phone. All major credit cards are accepted and we provide a money back guarantee if you do not receive the product or service you ordered. We've been serving Green Bay Packers fans since 1986 and have never defaulted on a ticket order.
Looking to sell your Green Bay Packer tickets? We'll buy them.
Looking for tickets to a Green Bay Packers away game? We sell those too!
When you purchase our products, you will experience a football game in the most unique atmosphere and smallest city in the NFL. You will attend a Green Bay Packers game at historic Lambeau Field, rated the number one fan experience in the country by ESPN the Magazine. The Green Bay Packers are 14-time World Champions led by 3-time MVP Quarterback Aaron Rodgers. You will experience an authentic Wisconsin-style tailgate party before the game and enjoy the camaraderie of hundreds of fellow Packers fans.
In Green Bay, football isn't just a game – it's a way of life!
Our goal is to make sure that everyone who buys a Packers ticket from us has the experience of a lifetime!
Call us today at: 866-449-7225 or buy online.
https://www.greenbayticketservice.com/
Green Bay Packers tickets are one of the most sought after in all of sports. We can provide YOU with a Green Bay Packers ticket to all home or road games.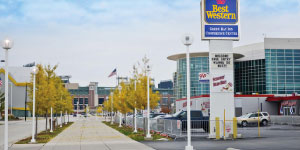 Add a hotel package to your trip to get the full fan experience of a Packers home game, and spending time with the #1 football fans in the USA.